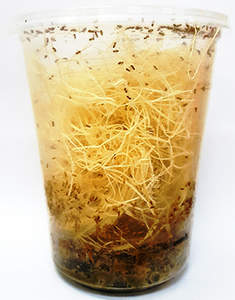 We now offer two varieties of flightless fruit fly cultures!
Flightless fruit flies are ideal as the staple food for a variety of small and hatchling amphibians, fish, spiders, birds, mantis and reptiles. Each culture is self-contained and requires no maintenance. Each culture lasts approximately 1 month as larvae continue to propagate.
Drosophila melanogaster the most commonly encountered species of fruit fly in culture, and measures about 1/16 inch (1.6 mm) long. 
Drosophila hydei is the larger variety at 1/4 inch (6.3 mm) long.